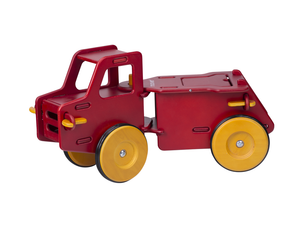 This Moover CLASSIC toy is from our original, highest-quality line of luxury wooden mobility toys. Simple and stylish, the Danish-designed Ride-On Truck is not only sturdy and dependable to promote mobility, but comes with a hidden storage compartment. The best part? The vehicle operates with no noise, to be a toy that both parents and children love.
FOR KIDS: 12+ months, building motor skills, learn to drive and steer simultaneously, encouraging role-play, learning, and imagination.
FSC-CERTIFIED: Birch Veneer Plywood, Solid Wood Axis, 18mm Plywood Wheels with Rubber TPE Tires. All paint is environmentally-friendly, water-based, non-toxic paint.
ASSEMBLY REQUIRED: 22 x 11.4 x 7.5 inches (56 x 29 x 19 cm)