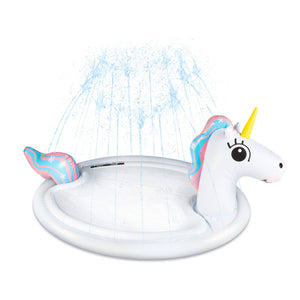 Transform the backyard into a waterpark...for kids!
These Splashy Sprinklers combine a splash pad with an array of sprinklers for refreshing backyard fun. It creates a 360-degree soak zone for hours of imaginative play that is ready in mere minutes. Just inflate, connect a hose, and go! When fully inflated they are a 6-foot-long miniature water park that can be controlled with the twist of your spigot's knob.
Constructed of heavy-gauge PVC, they're ready for season after season of sunshine and can be set up without any tools. When the sun sets it can be deflated and folded for compact storage at a fraction of the size. The colorful and friendly designs (Dinosaur Sprinkler, Unicorn Sprinkler, Llama Sprinkler) stand upright on their own so kids can squeeze, run circles around, and interact with them in ways that a pool float or lawn sprinkler could only dream of. A hose coupler is pre-attached, so all you have to do is connect it to your hose and turn on the spigot.
Want to beat the heat and cool off those crazy kids? Increase the water pressure and watch the sprinkler array fill the splash pool with tall streams of water. Entertaining a more reserved child is just as easy—reduce the water flow and the soak zone mimics an easygoing fountain they can approach on their own terms. Simply put, for heatwaves, parties, backyard barbeques and everyday outdoor play, Splashy Sprinklers are a showstopper.

It's a mini-waterpark just for kids!

Inflates in minutes for hours of fun

360-degree sprinkler streams surround the built-in splash pool

Connects to any standard garden hose

Easy setup: no tools or water pumps needed

Sprinkler strength can be easily adjusted by the spigot

Heavy gauge PVC to endure the way kids play

Deflates for compact off-season storage

Box contents: inflatable sprinkler, hose connector (permanently attached), instructions (garden hose sold separately)