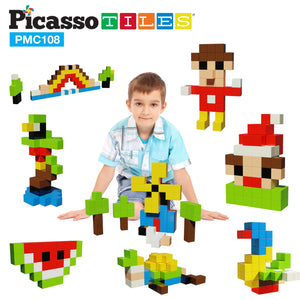 PicassoTiles Magnetic Puzzle Cubes 108 Piece Magnet Construction Building Block Set Sensory Toy Early Education STEM Learning Kit Includes Free Ideabook with 50 Ideas, Children Age 3+ Boy Girl PMC108
CREATIVITY BEYOND IMAGINATION - The magnetic puzzle cube sensory toy construction building block features click and collect magnetized connectors hidden in the building bricks to allow intuitive play and fun educational STEM skill learning experiences.  Facilitate problem solving and fine motor skills, spatial reasoning, logic training, critical thinking, hand-eye coordination, and child brain development, by promoting creativity. If you can imagine it, you can build it and make it possible! 
OPEN-ENDED POSSIBILITIES, LEARNING IS FUN - It's never too early to start developing children's STEAM skills with visual learning sensory toys and magnetic cube construction magnet building block toy kit to gain strong sense of color, arts, geometrical shapes, number counting, 3D architectural design, and structural engineering for preschool kids, kindergarten child, pretend play, group activity, classroom, toddlers, teamwork, boys and girls age 3 4 5 and up to create unlimited design and shapes
FREE IDEABOOK with 50+ ideas included! LEARNING BY PLAYING - PicassoTiles has done it again providing an all-in-one experience enabling kids to play intuitively and learn to be artistic, creative, scientific, intelligent, technical, and architecturally sound all at the same time. The magnetic construction puzzle block cube toy kit makes early education experience fun and engaging starting with modeling 50+ 2D or 3D animals, airplanes, dinosaurs and more as shown in the FREE idea book included.
ENDLESS ENTERTAINMENT - Enjoyable for single or multiple parties to fulfill the sense of achievement together. Magnetic Construction blocks are BPA-FREE, NON-TOXIC, and suitable for all ages (3+ and up). Build from any side of the magical magnetic building block for endless creations. Creating in groups and challenging each other to design something special is a great way to spend quality time with loved ones. Let your imagination run wild and inspire others to construct amazing creations too!
THERAPEUTIC - Release the children from digital screens and electronic devices such as TV, gaming, smartphone or tablets and finally bring some peace and quiet time back to the house. This puzzle comes with thousands of possibilities to promote critical thinking, develop kids creativity and stimulate STEAM (science, technology, engineering, art and mathematics) skills. Make your child's preschool and creative learning experience trouble-free and fun with engaging hands-on play.

FEATURES
50+ IDEAS INCLUDED - Comes with free ideabook to help with building 2D or 3D models such as animals, airplanes, dinosaurs and more as shown in the FREE idea book included.
EDUCATIONAL - Learning is Fun! Give your children a head start! It's never too early to start developing kids creativity brain at a young age, PicassoTiles magnetic cubes building block toy set inspires youngsters to learn by playing, can acquire a strong sense of colors, geometrical shapes including 3D forms, number counts, magnet polarities, as well as creativity, which is the key factor to success in today's ever changing environment.
OPEN-ENDED POSSIBILITIES - Unlike typical sensory toys, each construction magnetic puzzle cube block piece can be mixed matched and combined to form characters, animals, shapes, and more!   An all-in-one building kit enabling the kids to learn by intuitive playing and bring out the best of all to be artistic, creative, technical, architectural, intelligent and scientific all at once. 
INSPIRATIONAL - Fun and entertaining, perfect early education toy kit for school age toddlers that will never go out of style. Entertaining for single or multiple parties, great for parent-to-child bonding with hours of fun recreational quality time. Inspire others with your uniquely constructed magnetic building block design and challenge friends and family to create something amazing.
MADE OF CHILD SAFE, NON-TOXIC, BPA-FREE and lead-free materials that are tested to ensure quality and meet safety standards for children to play freely
In The Box
- 108pcs of 3cm x 3cm x 3cm magnetic cubes STEM learning building blocks including 16 Red, 20 Green, 16 Blue, 20 Yellow, 8 White, 10 Black, 8 Brown, & 10 Tan 
- Free Idea Book with 54 Exploded View Instructions