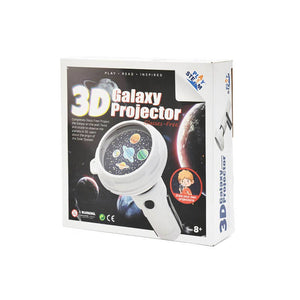 Observe the Earth, Moon, Saturn and Jupiter or create your own planet with the blank projection slide. This projector rotates to create a 3D illusion of the galaxy to bring the Solar System to life. Complete with a 24-page learning booklet, read about the Milky Way and more fun facts about the Solar System!
Learn while you play!
Complete with a detailed learning booklet, children can learn about the solar system while building their own projector.
Observe the solar system up close!
Assemble your projector and use the 6 different projection slides to bring the galaxy to life with a 3D illusion. Create your own planet with a DIY projection slide.
Fun for all!
This set is the perfect hands on experience for children to learn about the solar system in a fun-filled activity that the whole family can appreciate!
Age 8+
Piece count 14
Batteries Required 4*AAA batteries