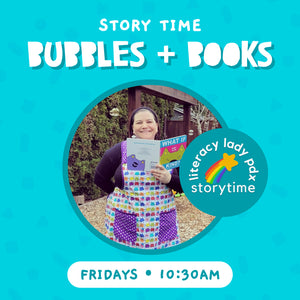 Join us every Friday at 10:30 AM for a delightful morning of storytelling with the fantastic child literacy advocate, @literacyladypdx! 🎶🕺📚
We encourage a recommended donation of $5+ per child, but we want to make sure that every family feels welcome, so no one will be turned away for lack of a donation.
Our story time session typically lasts around 25-30 minutes and is filled with an exciting opening song and dance, followed by a mix of captivating stories, sing-alongs, and energizing movement breaks. And yes, there will be bubbles, because who doesn't love bubbles? 🎈🎉
To cap off the fun, we'll bid farewell with a sweet goodbye song and one final dance for those who still have a little extra energy to burn before they head out!
This event is the perfect mid-morning treat for parents and their little ones, blending a whole lot of excitement with a dash of reading. While it's primarily tailored to babies and preschoolers, older siblings are more than welcome to join in the fun too! 😊
Every story time includes interactive songs, and you're even encouraged to bring your own music and movement props for an added layer of merriment. Let's make Friday mornings a blast! 🌟💃📖
About Sarah:
Hello, I'm Sarah, Literacy Lady PDX, passionate about sharing literacy in the Portland Metro area. I've adored reading since childhood, and now I bring communities together through story times and classes, fostering social interaction in a safe way for children and caregivers. Seeing kids grow during these sessions warms my heart. I'm dedicated to collaborating with local businesses and getting books into the hands of children and families.