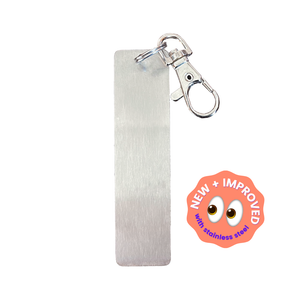 NEW & IMPROVED! NOW AVAILABLE IN STAINLESS STEEL & COLORS! Our new Carry Tag is made of a high-quality, hypoallergenic stainless steel. Perfectly sized to fit your Calm Strips! You can place Calm Strips on either side...or both sides. 
* Stainless steel split ring and lobster clip included
* Attach to keys, backpacks, zippers, and more...
* Take your calm even further on-the-go!
* Calm Strips sold separately