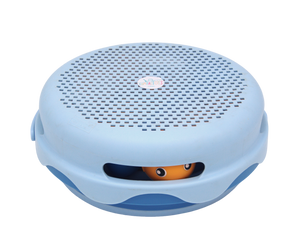 The popular fishing game reimagined; Whether indoors or outdoors, with or without water, there are no longer any limits to the joy of playing.
Thanks to the proven, compact and handy concept, the game is easy to transport and quickly ready for use. In different game variants, six magnetic fish can be caught with the two extendable telescopic fishing rods. Try to catch the star to win the game or get the highest score. Guaranteed fun for 1-2 players, big or small.
1) Collapsible 3 liter bucket in blue
2) 22cm diameter blue screen
3) Large, extendable rod, about 30cm long in blue
4) Size, extendable fishing rod, about 30cm long in yellow
5) Six magnetic fish
6) Playmat
The products are made of high-quality, stable bio-plastic. We have selected particularly pure plastics suitable for toys. The materials are free of any harmful substances such as plasticizers (BPA), but our product is still elastic and durable.
We guarantee the highest quality for our products and these have of course been tested and approved according to the toy standard DIN EN 71.
When assembled, the set has a diameter of approx. 22cm and is 8-9cm high.