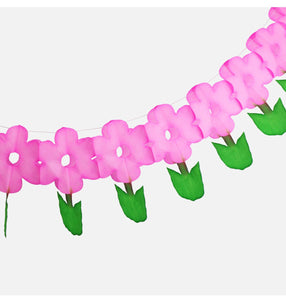 Paper Dreams Flower Garlands are made in Europe from sustainably sourced tissue paper. These flower garlands come in 360cm, and are available in 3 colours.
Each garland comes with hanging tabs at each end and can be used to create beautiful backdrops. Twist the garland as you hang it to create spiral effects or create a cascading backdrop by hanging from ceiling to floor.
As well as their good looks, they are incredibly eco-friendly and can be recycled after use.
Each piece comes flat packed and can be reused over and over.
When not in use, store flat, in a dry place and they will last for many years.
If decorations become moist the colour may run. Colours may fade in bright sunlight.
WARNING! Keep away from flames or heat source.


Handmade from 100% sustainably sourced paper and hand dyed. Packaging is plastic free.