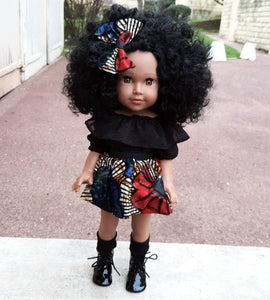 Beautiful doll with curly hair scented with vanilla and all in vinyl. Clothing handmade in France. Unsexed doll.
Made in Spain from 3 years old.
Made in France clothing Urbidolls dolls are made with excellent quality materials, especially a very soft vinyl, with a light vanilla scent, which is also recyclable. They are made in Spain in a traditional way. Our dolls are articulated, that is, you can turn your head, arms and legs, which allows you to place them standing, lying down or sitting. You can wash our dolls without affecting their quality and durability. Its size is 47 centimeters long. This model is presented in a fabric bag with underwear. The material used to make our dolls is Phthalate-free soft PVC.

About:

Rokhaya Diop is a Franco-Senegalese who was born in Dakar and arrived in France at the age of 14.

She embarked on entrepreneurship with the creation of urbidolls dolls after making an observation: there was a cruel lack of diversity in the world of toys, but particularly dolls. Finding a black or mixed-race doll in the big brands was an obstacle course.

The universe of @urbidolls today are magnificent dolls with all skin tones, hair texture for children from 3 years old.

Through this universe, rokhaya diop wishes to transmit values such as self-acceptance, self-confidence, self-esteem, tolerance and open-mindedness.

Her wish is that each black or mixed-race child can feel positively represented and thus better accept themselves as they are. That children of other colors can have black dolls to represent their playmates.

Washable clothes

our recommendations for the maintenance of your doll:
use a damp cloth to clean the face or body. Do not apply straighteners to the hair. An afro comb or use hands for styling.
You can wash the hair (although not recommended).

Our dolls are made by paola reina in spain, in the alicante valley. The materials used to make the dolls are of very high quality and guaranteed phthalate-free with a subtle vanilla scent.