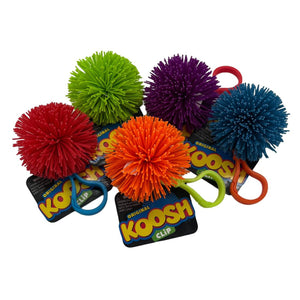 Have a ball with the return of the original Koosh®! The same quality construction that has made Koosh® a top toy for decades now has all new ways to play! With the Koosh Clip, never leave home without your Koosh again! Perfect for indoor and outdoor play, the convenience of Koosh Clip makes taking Koosh with you even easier. Just clip it to a backpack, belt loop, or purse and go! Designed for effortless play, Koosh is easy to catch but hard to put down!
Features
A great product in the novelty department.
High quality you expect from Playmonster.
Makes the perfect gift for Koosh enthusiasts that are at least 3 years old.
Included: 2-Inch Koosh Ball on Attached Carabiner Clip (Assorted Colors chosen at random)