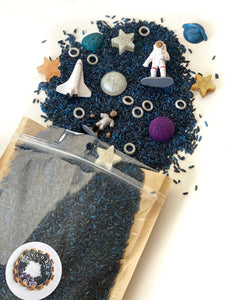 Local Buisness!
This mini sensory kit includes:
- 3.5 cups hand-dyed rice and pasta sensory filler
- hand-poured resin stars, planets
- Safari Ltd. Space Toob figurines (3-4 per bag, varies. Last pic shows possible variations)
- Comes in sealed 7x10" bag for easy storage!
Aimed at sparking the imagination through open-ended play, these kits are perfect for on-the-go sensory play! Sensory play is an amazing way to support a child's development. It encourages tactile play and exploration, allows them to feel textures and shapes, and helps to develop skills such as pouring, scooping, fine motor, creativity, and self-regulation.
Resin pieces can be combined with play dough and used as fun stampers, or as imaginative loose parts for a variety of play. Makes a unique gift idea!
**Items can be a choking hazard and are not intended for kids under 3 or those that may put things in their mouth