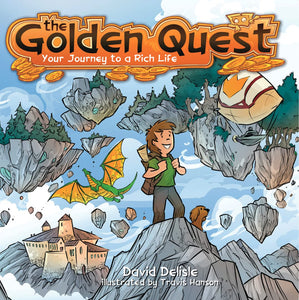 THE FUN WAY FOR KIDS (AND ADULTS) TO LEARN ABOUT MONEY
"Rich Dad Poor Dad meets Calvin and Hobbes."

 
The Golden Quest

 
is a graphic novel about a young boy who embarks on a Hero's Journey with his dog Shelby to discover the 
Golden Rules of Money
.
 
 

Learn how to SPEND

Learn how to SAVE

Learn how to INVEST

Learn how to GIVE
 
The Golden Quest is a great way to have conversations about money as a family and learn how to create the freedom for what's most important...the Awesome Stuff ™ .

The lessons are universal and will teach children of all ages the secret to a rich life.

Your journey awaits...