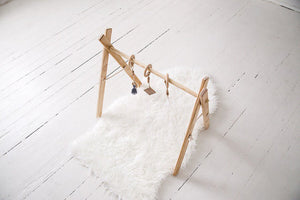 This simplistic baby gym is an alluring, purposeful addition to any nursery or children's space. The modern design and neutral palette allows our baby gym to be a peaceful and stylish addition to your home without the overpowering presence of typical children's gear.
The aesthetic of the natural wood is soothing and invites play without being overstimulating. Our natural toy gyms and mobile accessory sets encourage your baby to develop their hand-eye coordination by inviting them to reach and grasp for engaging objects within their view.
Once your sweet babe outgrows their Clover and Birch play gym, simply remove the middle rod and store flat until it's needed again. How perfect for apartment or minimal space living! Each play gym includes three coordinating mobile toys. The clip mobile does not include greenery or a hand-lettered card. Use it to hang yours and baby's most favorite items. 
OUR PROCESS AND MATERIALS Our Activity play gyms are created with the finest local pine. Each gym features rounded edges that are hand-sanded smooth. 100% cotton rope connects the pine pieces and allows each gym to be fully adjustable. Colored tips are painted using eco-friendly, zero VOC paints. Our wooden play gyms measure two feet tall by two feet wide and are approximately sixteen inches deep. Gyms will be shipped flat. Some assembly required.
CARE Spot clean with mild soap.
*Conforms to ASTM standards. Never leave your baby unattended with their play gym. Discontinue use when baby begins to pull up or rollover.