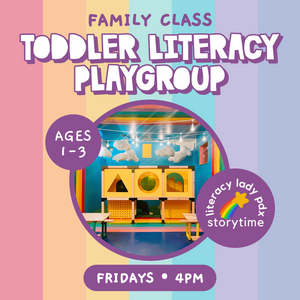 Fun-Filled Fridays with Sarah of Literacy Lady PDX! This Fall, get ready to make your Fridays extraordinary by joining Literacy Lady PDX in the Happy Place at Hammer + Jacks from 4-4:45 PM. We're all about creating a wonderful world of literacy and play, and we want you and your little ones to be a part of the magic. ✨📖
In this cozy, small-group class, we'll embark on an adventure through different themes every week, including exciting themes like dinosaurs, things that go, and kindness/friendship! 🦕🚗💖
What to expect:
We kick things off with circle time, where stories come to life with movement and songs. We end circle time with bubbles, of course!
Unleash your child's creativity with art and playtime in the Happy Place.
Connect with other fantastic families and build lasting friendships in this Literacy Playgroup!
No Class on December 22 and 29
📅 Fridays from 4:00-4:45 in the Happy Place
👶 Ages 1-3
💰 Sliding scale drop-in $15-20
🎟 Ready to join? Book your ticket via the link in our bio!