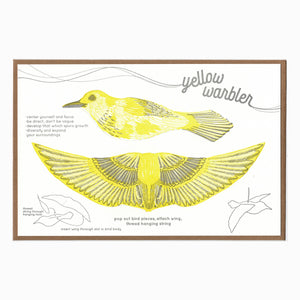 Discover the symbolism behind spotting your favorite bird! The yellow warbler represents the spirit of focus, growth, and expanding your horizons.
• 8.75"x5.75" flat card is letterpress printed in yellow and gray ink on 100% cotton paper
• die cut in our studio, birds cut for easy pop out, hanging string included
• accompanied by an 6x9 kraft envelope and packaged in a clear sleeve
• blank on back, great for a note or birthday wish
• finished bird is about 5.75" long x 7.75" wide x 1.5" tall.