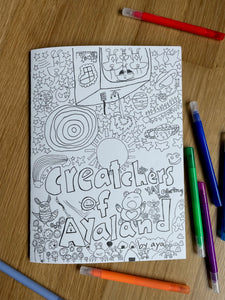 Local artist Aya created this 11" X 32" foldout 8 sheet coloring book to spark your imagination and creativity.
Meet the Artist:
Hi! I'm Aya, and l'm 8. I like to dance, sing, and do taiko. Someday I wish to have some fish and some tiny shrimp and maybe a snail. I also like tiny stuff, but not ants. My favorite band is Motorhead and my favorite toy shop is Hammer & Jacks!
Thank you for buying my 8 page fold out coloring book. It comes with a sticker sheet to bring the creatchers into your world.