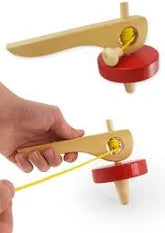 Simply the best-designed, most rewarding spinning top we've had the joy to experience.
Perfect balance — it just keeps going and going.
Young children can easily place the handle on the axis, thread the shoelace-style cord through the hole, wind it up, and pull to release.
3" dia. wooden top with metal tip; 6" launcher; nylon cord with wooden bead.