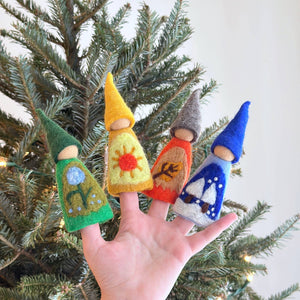 Introduce enchanting playtime with our Needle Felted 4 Season Gnome Finger Puppets, inspired by the magical world of Waldorf toys. This delightful set of four gnomes, handcrafted from 100% natural wool, represents the unique beauty of each season with vibrant colors and intricate details.
Winter Gnome, dressed in cozy blue, embodies the wonder of snowflakes and frosty days.
Spring Gnome, adorned in fresh green, symbolizes the renewal of life with blooming trees.
Autumn Gnome, donning a warm orange hue, celebrates the crisp air and falling leaves. Lastly,
Summer Gnome, radiating in bright yellow, exudes the energy of the sun and long, playful days.