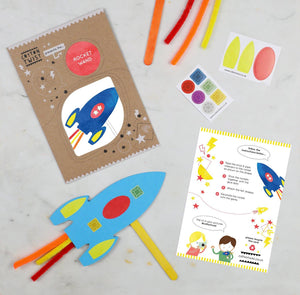 Perfect for three years & upwards, children can construct their rocket using the cut outs provided. Once the pipe cleaners & lolly stick are taped on, the rocket sides can be stuck together, ready for the themed stickers. Whizz your rocket to the moon & back, then tell family & friends about your adventure.

Cotton Twist craft activities are often gifted as party bag or stocking fillers. 
In a bid to banish plastic from our homes, Cotton Twist products are lovingly assembled by hand, & all components are as good as we can possibly make them.