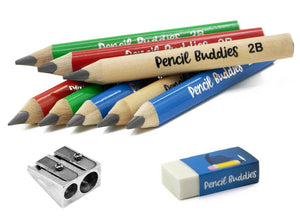 JUMBO TRIANGULAR GRIP: With a thicker pencil grip in a triangle shape, it is much more natural for kids to grip these pencils correctly, allowing them to practice writing for longer. Ideal pencils for toddlers, kindergarten, preschool and beginners learning to write.
PERFECT LENGTH FOR KIDS: Specially designed for small hands, these pre sharpened pencils are 3.5 inches, (half the length of an adult pencil), which makes them much easier for kids to control than longer 5-7 inch pencils.
THICKER 2B GRAPHITE: The lead is much thicker than a standard sized pencil to avoid breakage and create bold writing even with very little pressure. ECO FRIENDLY &
COLORFUL: These kids pencils are made with premium natural bass wood to be smooth, lightweight and eco friendly. Made with 4 different bright colors to make learning more fun.
DUAL-OPENING PENCIL SHARPENER – Each 10 piece set includes a multipurpose pencil sharpener that can sharpen standard pencils or our thick pencils with quick precision.