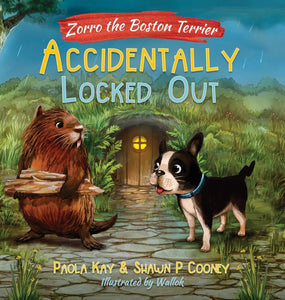 A need to find warmth and food sends Zorro through the neighborhood. Will he find help before he turns into one soggy doggy? A picture book for children ages 2 to 8 about kindness, friendship, and not giving up. Will you find the hidden picture?
"What are you doing out all alone?" said Ava the Owl. "I accidentally got locked out, and I'm all wet," Zorro sniffled.
"Come up into my nest," Ava the Owl chirped, "it is warm and dry."
Zorro tried jumping up the tree, but it was too tall. "I can't reach your nest," he barked. "It is too high."
Zorro's brave journey to find shelter leads him to several adorable animals, each offering help in unique ways. New friendships, unforgettable adventure and extraordinary creatures await Zorro on this night in question.
Who will come to his rescue?
Where will he spend the night?
How will he get back home?
Zorro's story is perfect for bedtime reading and teaches young children about perseverance and not being afraid to ask for help.